Welcome to Joey's Web site!
For any and all of the pictures on this site, just click on the image to see a larger version. Now, on with the festivities!
---
At Birth:
Born: February 26th, 1998 at 9:28 PM
Weight: 9 Lbs. 7 oz.
Height: 21 inches
As of 10/29/1999:
Weight: 25 Lbs. 7 oz.
Height: 34 3/4 inches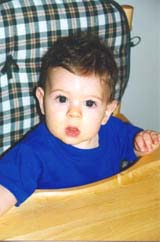 [Joey at 6 Months]
For those of you who are curious, Aiden is an Irish name that means fiery. My parents are Irish & German (Not-the-Momma) and Palestinian (Momma). They look after me and make sure that I have enough to eat. To thank them, I like to leave them surprises in my diaper! Also, I go by Joseph or Joey... NOT Joe. If you call me Joe, I will have to pee in your face (just ask my Momma and Not-the-Momma -- I'm good at it!).
I've collected many pictures of myself so far and I want to share them with you. By clicking on the Photo Album link, you'll get to see me grow.
I also have pictures of my cousins. I've put them on the page under the link labeled Family Album.
If you have any questions or comments regarding this page, please let me know! If you like, you can contact Not-the-Momma or my Momma or my Grammy. Just let them know what you think of my site. I think Not-the-Momma is going to grade me on this.
---
This page was last updated on 04/03/04.