Welcome to Sarab and Mark's wedding web site...

It's official... Sarab and Mark became engaged on June 16th, 2001!
Their wedding date has been set for September 21st, 2002 in Columbus, Ohio.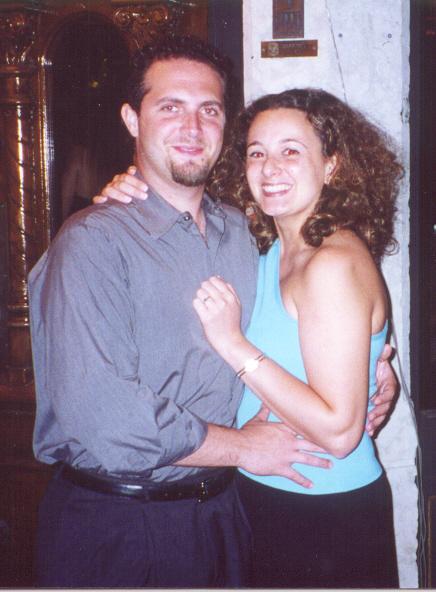 They met in May of 1997 while opening the Columbus Brewing Company. During food and wine tastings, they checked each other out from across the room. Sarab thought he was cute, but couldn't get past that Kirk Cameron hair. Likewise, she caught Mark's eye, but he couldn't get past that loud mouth. Regardless, the romance blossomed after Mark was transferred to another restaurant, and came back a year later as a manager at CBC.

Three years later, Sarab started to offer suggestions for diamond cuts (are you surprised?). Mark paid no heed, since he had already purchased a ring which was hidden in a living room coffee table... for months without her being able to find it! On June 16th, on their way out for the evening, Mark asked her to wear something that would go great with her new outfit (see above). He paced the room nervously with his hands behind his back, hiding the ring, until he got down on one knee and proposed... forgetting to open the jewelry box. After Sarab accepted, they decided it would be a great idea to actually see the ring!

visitors since July 02, 2002.
This page last updated on July 02, 2002 .