We were lucky again to have found an open spot for dinner with Cinderella...
the character meals, especially with the princesses, book up months in advance!
We ended up at Disney's Grand Floridian resort... and my oh my is it grand.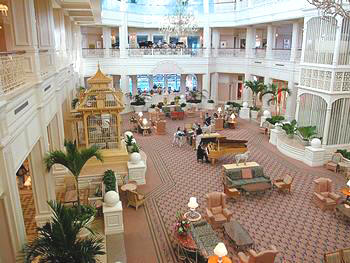 ---
Hover over each picture to read the caption, or click on it for a larger image.
We met the Fairy Godmother just outside the restaurant, and Cinderella came around pretty soon after we were seated.
Care to guess what Jenine said as soon as Cinderella left? Yep... "I yuv her mama, I yuv her."
Prince Charming came by next, but Jenine burried her head in her seat.
So he visited with the girls at the table next to us, and peaked over to see if Jenine was ready. Nope, not yet.
In the meantime, the mice came over to say hello.
Prince Charming came by again, but still Jenine would have nothing to do with him.
In fact, Jenine was so upset with him, that she wouldn't even look up at the green mouse.
But he was relentless, and came around yet again, only to be shunned once more by Jenine.
This time he asked if I'd like a photo with him...
Seeing that somebody got their picture taken with Prince Charming, Jenine must have felt off the hook.
So she lightened up and was more than happy to snuggle up to the green mouse the next time she came around.
Little did she know that the prince was very persistent!
He came back yet one more time... and this time I got out of the way and let him talk to her directly.
Sure enough, he sweet-talked her, and pushed her hair out of her face... it was sweet and unnerving at the same time!
We're still not sure if Jenine was happy to pose with him, or just happy to get him out of the way.
She hasn't mentioned him since, unlike the princesses and mice who each got an "I yuv her."
Either way, we had a wonderful dinner, the best food we ate during the whole trip! And it was a charming end to a fun vacation.