Jenine was a little too shy at first, but Belle talked her into posing for a picture.
As we walked away, Jenine kept saying "I yuv her mama, I yuv her."
Before we knew it, it was already after 2pm, and we had to go find a curb spot so we could watch the parade.
We were lucky enough to find a lady willing to share her spot, and ended up with front row "seats."
We snacked while we waited for the show to start, and Greg harassed people as they walked through the street.
The evil float interacted with us the most. Looks like Jaafar is pointing right at us!
And check out Cruela DeVil... she spotted Jacob asleep in his stroller (it was still too hot for him), and said something like "It's sleeping."
I said yes in a "ain't he cute" voice, and she responded with "Wake it up!" I said no, so she said "Pinch it."
Then she made a twisty pinchy motion with her fingers, and said it again!
She almost had me frightened! I had to remember she was just a character playing her part! Ha ha ha!
---
By now we were exhausted and starved. So we grabbed a bite at Cosmic Ray's Starlight Café and let the little ones nap.
Jenine crashed in the stroller for almost three hours, and Jacob slept on a ledge while gazing at the waterfalls and castle.
The big boys took off again for more rides, while I hung out on the restaurant balcony, waiting for Jenine to wake up.
---
Turns out that Joey's favorite ride all day was Tomorrowland's Transit Authority...
it doesn't look all that exciting, but it takes you through some of the other rides. He enjoyed it twice!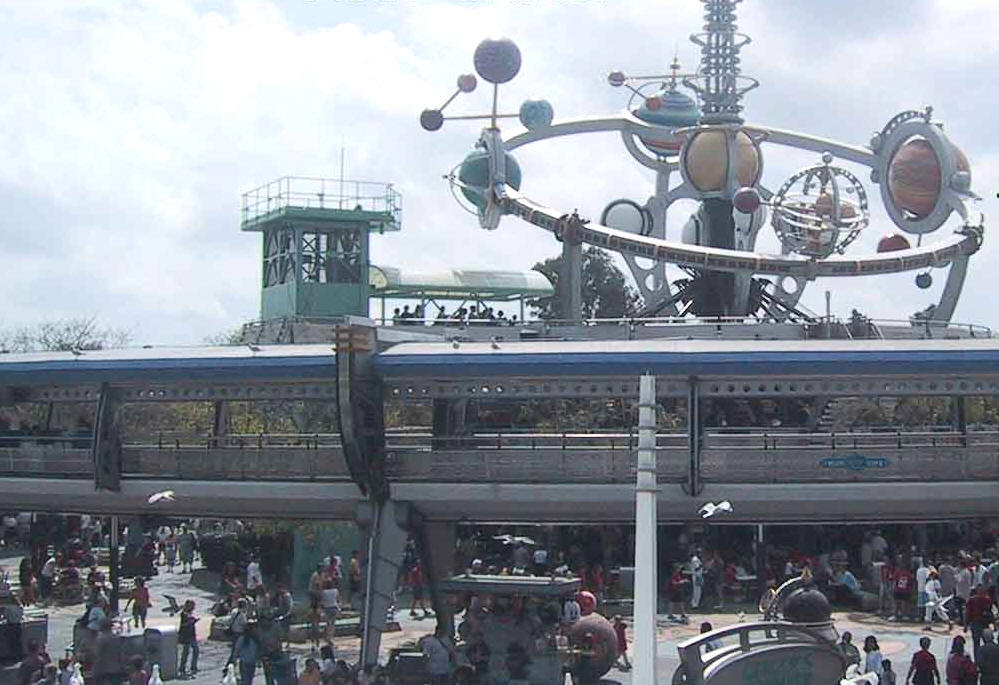 ---
Our next stop was Ariel's Grotto... finally! Once again, Jenine was a little too shy at first, but finally warmed up to Ariel.
And on our way out, she said... "I yuv her mama, I yuv her."
---
We spent the rest of the night on Cinderella's Golden carousel, Snow White's Scary Adventures, and the Pooh ride.
We're not sure which Jenine enjoyed most - the carousel ride itself, or looking at herself in the mirrors!
She definitely didn't like the Snow White ride, even Joey was a little scared. But she wanted to ride Pooh again!