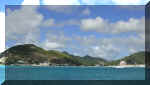 This was our favorite island, until we stopped at St. John. Third time here...
the people are super friendly and hospitable, especially on the Dutch side.
The beaches are nice. The shopping is fabulous -
three visits to the island = three precious gem rings for Laila!
One of these days we might have a timeshare on this island...
(Click on pictures to see larger image)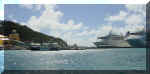 Catching a ride back to the ship on a "water taxi" or ferry.
We felt great about our day, but were sad to leave St. Maarten.
We vowed that our next week-long vacation would be spent here.

By now, you can see on our faces how much good the sun, surf, and rest have done us!